Skip to Content
Make the Most of Christmas With a Premier Tree
Christmas is a magical time of year, especially when snow begins to fall in Sullivan County, NY. And what's the best way to show your excitement for the season? A freshly-cut Christmas tree, of course! The team at Diehl Farms Farm Market is proud to provide our community with a range of Christmas trees, both at our famous tree farm and our pre-cut selection. In addition to world-class trees, we also feature a variety of other Christmas-themed plants and greenery. Whatever you need to welcome the winter season, we can accommodate you.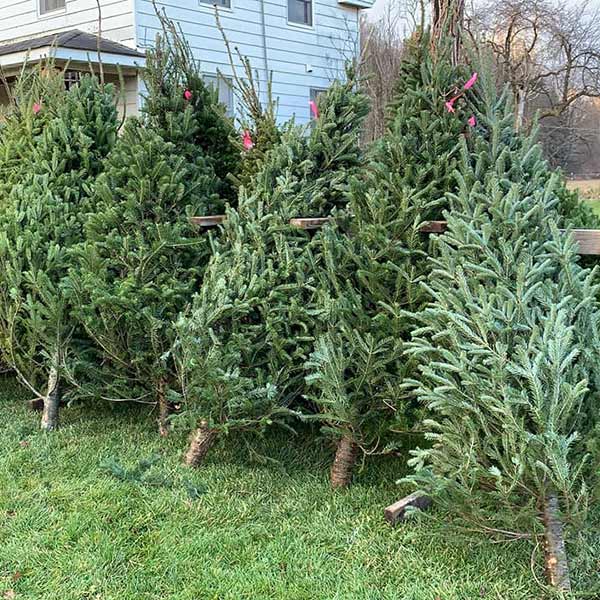 Choose From a Variety of Trees
Christmas trees aren't one size fits all! While we typically think of traditional Christmas trees, you actually have several options when it comes to getting into the holiday spirit. At Diehl Farms Farm Market, you'll be able to browse our selection of five different types of trees. Need some help making the best choice? Our team would love to walk you through our inventory and help you decide which tree best meets your preferences. Check out the following types of trees:
White spruce
Blue spruce
Fraser fir
Douglas fir
Canaan fir
Cut Your Own or Take Home a Pre-Cut Tree
Not only will you have your pick of tree types, but you can also choose from hand-cut or pre-cut. We welcome our customers to cut their own trees from our famous tree farm, but if you prefer pre-cut, we have you covered as well. Simply let us know your preference, and we'll help you cut down your very own Christmas tree or choose from pre-cut options.
We Also Sell Other Christmas Greenery
Besides trees, Diehl Farms Farm Market also offers various other types of Christmas greenery. In the summer, we're known for beautiful flowers, and in the winter, we're excited to sell lovely poinsettias to complete your Christmas décor. And don't forget a welcoming wreath, perfect for decorating and hanging on the front door.
Get in Touch With Our Team